It feels utterly ridiculous to "review" Bakers and Co, the Californian inspired brunch pad on the foodie highway known as Gloucester Road. Not because it's been done to death but because they have been doing their thing brilliantly for so long, most of you will have heard about them and been in to eat in the last 12 months.
This blog post will be more about a story about customer service, sulking and the benefits of Saturday afternoon drinking…sort of.
Bakers used to be a haunt of mine, I would often traipse down the hill from my old flat (always before 10am, after that you can't move for buggies) and enjoy a coffee, beetroot smoothie and something to eat with either Twitter or the newspaper for company. I loved the food, the ethos and the coffee but, I didn't love that there wasn't really any sauce to go with my Bakers cooked breakfast. At the time they only offered a spicy mango sauce. This stuff was bloody tasty but had such a kick to it you would struggle to use it to "wet your drys". I really need a sauce with my food, I campaigned about dips for crusts, I can't have a  burger without at least two sauces on it and I don't like gravy. It has become a hill dying exercise and I make no apology for it.
So, after battling through but not wanting to give up my breakfast, I started bringing my own ketchup.
I would order my brunch, get out my ketchup and then put it away. Only this time, I left the bottle out.
I am not here to debate who was in the wrong. Perhaps it was me for ruining the food, perhaps it was them for being so judgy.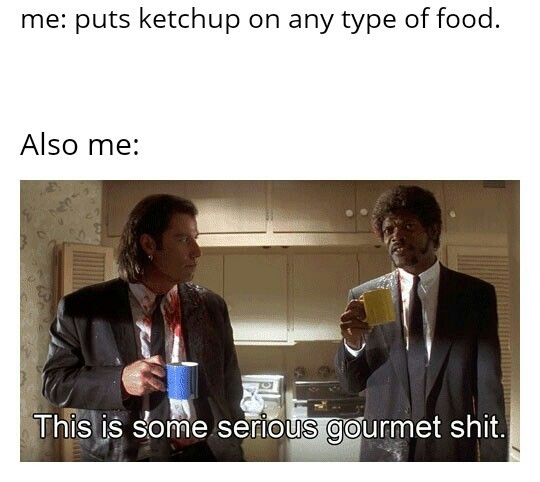 One of the servers spotted it, questioned where I got it and was sharply told to "put it away". Full of shame (its ketchup shaming a thing?) I did and slunk off once I was done eating and never returned. This story has become a firm favourite within my friendship group as my love of the sweet red stuff is now legendary, but for me, it served as a regular reminder of the time I had my pride dented over a Heinz best seller.
Years later, whilst enjoying a summers afternoon of drinking Aperol Spritz at The Galli with a friend, I felt a tap on my shoulder. The tapper in question was Brett St Clairwho had recently taken up the reins as head chef and manager of Bakers and he, embarrassingly, recognised me from the internet. The poor soul was subjected to a drunken retelling of this ridiculous story, patiently listening without outwardly looking regretful for engaging with me once and asked after I had finished "what would it take to get you back in again?". Apparently, they now did ketchup, Brett was working on a brown sauce recipe and there was a cod roe dish I'd had my eye on for a while that I really wanted to try.
Really, it didn't take anything much to get me back in, just someone listening and asking me to give it a go, who was passionate about his food, his team and believed my mind would be changed after a bite or two. Of course, I dragged my poor friend in with me, who had spent the pub conversation with her head in her hands wondering why I am like this, to try out the food and we were treated like queens. Homemade granola topped with fruit and yoghurt, cod roe that was fresh and zingy with lemon and pickled fennel and slathered greedily on house-baked sourdough, perfectly poached eggs and a hazelnut, radicchio salad scattered with blue cheese and finished with plump, sweet syrupy fruit made our brunch an absolute dream.
With all the brunches on offer over the city, this stalwart of a venue may be overlooked by those of us who might chase the big new openings or the bottomless boozy offerings but when it comes to being in safe hands, Bakers really does come out on top. The specials are worth the regular trips alone.
I have resumed my solo brunches once again, sitting at the bar, eyeballing the sticky buns and relishing the choices of condiments I can pair with my food. It really doesn't pay to sulk as you might miss out on something good but it's always worth sitting in the pub on Saturday afternoons, you never know who might recognise you from Twitter.